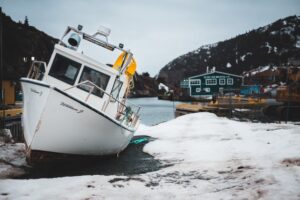 Boat maintenance starts from keeping it clean. However, with a full load of boat cleaning hacks and products out there, which of them are the most effective?
It's recommended to clean your boat regularly. It should be as often as you use it, and a bit more if you use it on lakes or murky waterways. However, when cleaning your boat is not an easy task, it should be made simple with these effective tips and tricks.
Choose your cleaners responsibly
We're all lovers of the sea, that's why we should do our share in protecting it. It's important to choose environmentally friendly cleaners in cleaning off your boat.
Stay away from chemically strong cleaners when cleaning your boat's exteriors. When washing, avoid throwing soap water and other chemicals in the ocean.
Scrub lightly, or not at all
Scrubbing, if not done properly, can ruin your boat's surface. Instead, just rinse off all dirt first by water or just by a high-pressure water cleaner. You can scrub lightly after you rinse off the surface, but never use brush over a dry area. Also use a friendly brush, cloth or material that will not leave marks on your boat.
Vinegar for hard water stains
Hard water stains can be annoying especially on your boat windows. These usually came from mineral deposits that can destroy your boat's glass parts, hull and engine cowlings.
One great boat cleaning hack is using vinegar. Mix the water with equal parts vinegar and spray it onto the stained surface. Let it sit for five minutes and simply wipe it off after. Dryer sheets are also effective cleaners for hard-water stains. With a piece of cloth, dab and rub off stains from the surface and rinse.
Don't keep portlights foggy
Your portlights should be given the proper clean for safety purposes. The challenge is that because they're made of plastic, oxidation or scratches make them look foggy. This is something no boat soap or any cleaner can solve.
To solve this problem, clean it with warm water mixed with mild dishwashing detergent. After washing, squeeze a bit of toothpaste on a cloth and rub it on the surface. This method reduces oxidation from your portlights.
Never use any glass cleaner as it doesn't work well on plastics. To prevent oxidation from happening again, drizzle water-resistant spray on the surface after cleaning.
Eliminate stains on vinyl
Boat interiors should also be given enough attention. The humidity of salty air and splashes of salt water can easily destroy interiors, especially cushions.
For stains, it might get a little tricky. It's important to only use cleaners that are meant for vinyl. Harsh ingredients found in bleach can only break down your cushion's vinyl through time, together with its stitching. It's also recommended to use a vinyl sealer after cleaning so stubborn stains won't happen again.
Avoid fish blood stains
Fishing is great, the catch though, is getting fish blood stains all over your non-skid deck. To avoid future stains from happening, always wash off blood before it dries.
However, for tough stains that have already dried up on the surface, another boating cleaning hack is simply using hydrogen peroxide. Sprinkle it on to your non skid deck, scrub to get the stains off, and rinse well after.
Dry first before waxing
Getting your boat waxed is one thing you shouldn't scrimp on to keep it looking new through the years. But before doing that, another important thing you should remember is getting it dry first. Use a soft cloth to dry your boat completely before applying any wax.
Apply wax in circular motion on the surface of your boat's hull. Let it dry for a few minutes and remove the excess wax build-up with a soft towel.
Cleaning your boat is not a task you should do when you only feel like it. Owning a boat has a big responsibility in tow. You must be able to take care of it and gear it up for longer use. If time won't permit, there's a lot of boat cleaning services that you can ask help from.
But for boat window replacement and maintenance, only trust the right people for the job. Our glass experts at Peninsula Glass are happy to help you out. Find time to contact us any day.