About Peninsula Glass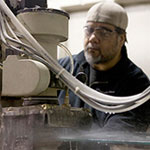 Peninsula Glass Co dba Motion Windows is an aluminum window and glass manufacturer located in Vancouver, Washington. We specialize in custom built-to-order Coach & RV Windows, Marine Windows, Industrial/Commercial Vehicle Windows, Van Conversion Windows, and Emergency Response Vehicle Windows. Our manufacturing facility is located about 20 miles north of the Portland, Oregon airport. Originally located in the Peninsula area of North Portland, OR in the mid-1970s, family-owned Peninsula Glass Company has grown from a small local glass shop to a national leader in online glass sales and specialty niche aluminum window manufacturing.
Why Choose Us
Peninsula Glass is a fully integrated manufacturer
Our facility includes several glass tempering furnaces, float and laminate glass cutting tables, waterjet cutting system, an extensive array of glass processing equipment, insulated unit production, extrusion bending and forming machines, and the best craftsmen in the business.
---
Our Experience
Our experienced engineering team consistently provides innovative and practical solutions for our customer's window and glass requirements. We are large enough to serve your needs, but not so large that we have lost the "personal touch" when helping customers.
---
Our Values
Treat Every Customer Like Family.
Quality Must Be A Part of our Culture.
Always Do What You Say You're Going To Do.
Forget The Policy, Do The Right Thing.
---
Experience Motion Windows
It turns out business isn't all that hard. Treat people the way you would want them to treat you. Build a quality product and then stand behind it like it's your family crest. Strive for excellence and demand our best effort.
---
Exceptional Craftsmanship
Do you remember how much better products used to be before everything was mass produced on an assembly line? We do, and at Peninsula Glass we are still building things from scratch. We bend and cut each frame. We cut and temper the glass. We assemble each window one at a time with our own hands. It's the type of manufacturing you can see and feel. Made the right way. Made in the USA.
---
Customer-Centric Approach
Motion Windows is driven by a deep commitment to our customers. Because of our unique custom manufacturing approach, we prioritize the needs, preferences, and experiences of our customers to build lasting relationships that go beyond the initial point of sale. We want everyone who owns a Motion Window to see and feel our commitment to a job well done.