Guides / Tools
Download our measuring tool for help accurately ordering determine the radius needed for rounded corners. Creating a radius measurement tool is a very easy process. Once you download the tool and print in out you will be able to determine if you have either a 2 1/2″ or 3″ radius. The correct radius will fill the entire corner along the rounded area.
Measuring Replacement Windows Guide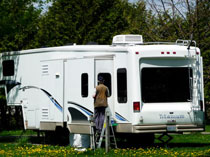 We have provided you this installation guide for to help you install your new Peninsula Windows. It contains a diagram and helpful step-by-step instructions.
Click here to open our installation guide in PDF format.
For specific instructions or questions regarding the installation of your new Peninsula Windows, please call our office at (800) 468-4323 or e-mail us at support@peninsulaglass.com.