Testimonials
I just wanted to say thank you for such a well-made easy to install product. Your tutorial video is amazing, the step-by-step directions makes a novice feel like a professional. I installed your window on a Promaster 1500 and the entire process, from unboxing till finish, took only an hour and a half. I know that is probably a horrible time for the pros, but I'm proud of it… lol. I will highly recommend your product.
Joe S.
Monroe, NY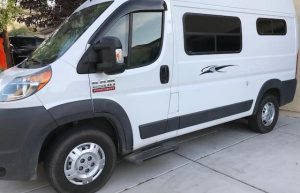 I'm super stoked to get these bad boys installed. I ordered a different RV window on amazon to compare to yours and the quality difference was night and day- so much so I had to leave a review recommending your windows. Your team puts out an excellent product, I can't wait to have them all in my van. Cheers!
Russ P.
Merced, CA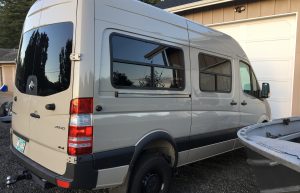 I finally installed them and love them! These windows, although take a little extra time to line up, look so much better than all glass looks. They are heavy duty, clamp in well and look great on a 4wd and don't have the Holiday Inn shuttle bus look. Thanks for the easy-to-follow videos and all the parts needed for the installation.
Tom H.
Pleasant Hill, OR

Just a note to let you know that the windows are great. The first thing we noticed was how quiet the bus was and how much better the air conditioner worked. Again, thank you. I am a satisfied customer that will recommend Peninsula Glass to anyone seeking top quality bus windows.
Alan A.
San Jacinto, CA

Just a quick note to let you know the windows survived their first rain storm today. They not only look beautiful but fit perfectly. Thanks for a job well done.
Bruce A.
Cayman Islands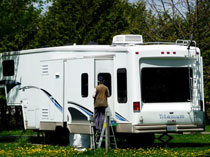 When ordering something online sight unseen you are somewhat skeptical of the product you will receive. I am happy to say that I am very pleased with your product. After examining the window it appears that the workmanship is impeccable and it matches my other windows right down to the locking latch. I will not hesitate to recommend you to anyone. Thanks again for a great product and your promptness with my order.
Ken T.
Austin, TX

I want to take a moment to thank you for producing such a terrific product and going above and beyond in your service. You clearly have exacting standards of order processing, fabrication, assembly, and quality assurance. In addition, I was impressed with the little things like how well the windows were packaged, and how easy they were to install. It is obvious that your employees take pride in producing and standing behind their great products.
John B.
Walnut Creek, CA

We are very happy with our new windows and your professionalism.
Rich and Terry Pruner
Bullhead City, AZ

Thank you for your fine work, the windows fit great, work smooth, and look beautiful.
Steve G.
Washington, IL

Great windows! Thanks…
Stephen Bradley
Belize City, Belize

Thank you for a beautiful product. Your window installer, George, is a very competent technician. Peninsula Glass windows are the best in the industry!
Suzi and Dan K
Grants Pass, OR

Great windows… you said we would be satisfied, and you were right. Thank you from the folks in Iowa.
Tim & Lori P.
Guttenberg, IA

Just wanted to let you know I received my windows as scheduled and I absolutely love them. I finally got one installed and am very impressed with the ease of installation and the quality of the window. This is a very solid product that looks great and performs flawlessly. The windows were made accurately per the drawings and I can't find a flaw or blemish on them. You and your company have been a joy to work with from the initial contact to the final delivery and everything has gone just as you said it would. Also, give my compliments to the shipping department. The crate they made for shipping was outstanding and the windows were extremely well protected. Rest assured I will be in contact again for additional windows.
Andrew W.
Newark, DE

I wanted to let you know how pleased we are with our windows. Your product is "top of the line
Jim L.
Rockville, UT