Marine Windows
For Use In:
Fishing Boats
Yachts
Luxury Houseboats
Houseboats
Pilot House, Salon, Windshield and Side Windows for Boats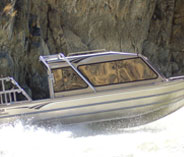 Fixed or sliding windows for boats, houseboats and yachts, are custom built to meet your specific requirements. Whether you need lightweight windows or heavy-duty windows designed to endure the most severe conditions, our craftsmen can build the window for you. Our single pane and insulated windows are available in a variety of widths and can be custom built with either radius or mitered (square) corners. Our window frames are available in your choice of anodized clear (silver) marine grade aluminum or a selection of powder coat colors.
The design of a Peninsula Glass Coastal Motion marine window is limited only by your imagination. Many choices including glass tint, frame style and shape are options that help you custom build your own window. Glass tints range from clear, solex (green), solar bronze, solar gray, solar cool bronze (mirror finish) and dark gray. We can produce shapes ranging from rectangles, single slopes, squares, parallelograms, and circles. Other choices such as direction of slide, thickness of glass, and the method of mounting are also available.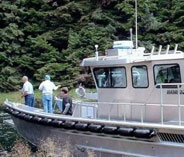 We view each customer's requirements with a wealth of experience, a reputation for innovation and an unparalleled level of quality and service. Our team is dedicated to bringing you the highest quality products. Our state-of-the-art manufacturing techniques, consistent high-quality, and on-time deliveries define us as leaders in the market place. Let our experienced staff co-develop a production specific solution for your window needs. Visit https://www.boatwindows.com for more information.
Related: Marine Glass: Quick Shopping Guide
Measuring Marine Windows:
How Do I Measure For My New Windows?
Key Benefits
Custom Sized and Shaped to Meet Individual Specifications
Clamp Grip Installation
Fixed & Sliding Configurations
Tempered Glass, Laminated Safety Glass, Acrylics & Polycarbonates Available
Anodized Aluminum or Powder Coat Frames
Select Radius or Mitered Corners Available
Check The Specs:
We are excited about the opportunity to add you to our family. Please help us describe you needs by getting started here