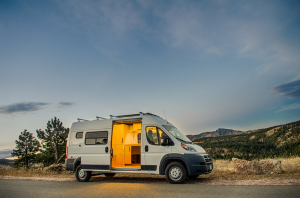 Living in an RV means living in a small space. But it doesn't have to be. There are many practical RV storage ideas that you can apply in your RV that allows you to maximize your room space. From using organizers to multi-purpose-furniture, you can make your little home more organized and cozier. Take a look at the tips below and see how it can do wonders in organizing your RV.
Related: The Best Camper & RV Cleaning Tips You Should Follow
RV Ideas: How to Maximize Your Mobile Living Space
Whether you are using an RV for camping or living permanently, you'll need some RV ideas and storage hacks to organize your stuff and maximize vehicle space. Here are some simple and practical tips to follow:
1. Add a bedside caddy.
You don't need to use a nightstand anymore to place your glasses, books, and other items. Instead of using a nightstand, a bedside caddy serves as additional storage where you can keep your things.
2. Organize your items with shower pocket organizers.
You can add as many shower pocket organizers as you like to sort your items, from bathroom necessities to fashion accessories. With lots of pockets, that tend to be see-through, finding your items will be easier, and faster!
3. Use PVC pipes as toothbrush holders.
You don't have to buy many organizers because you can make them. Consider PVC pipes for toothbrush holders. You can also use PVC holders to keep your pens. If you have bigger PVC pipes, you can use them as storage for your shoes.
4. Put refrigerator bars in the fridge.
If you have a refrigerator, use adjustable bars to keep the food items in place while traveling. It can also help you organize the stuff inside your fridge.
5. Mount your TV, iPad, and other gadgets.
Consider using command hooks to mount any device on the wall. Doing so gives you the feeling of spaciousness, making your room look uncrowded. Make sure to secure the device on the wall so that it will not fall on the floor.
6. Use cable wire organizers.
Using cable wire organizers is helpful in so many ways. Not only can it improve your cable management system in your RV, but it can also prevent the cords from getting tangled together. Using cable wires is an overall pro as it helps avoid any accidents that could happen to your wires.
7. Use hooks to hide your wastebasket.
Trash cans and wastebaskets can also take up some space. You can hide them inside cabinets using hooks. Doing so guarantees that the trash stays in place.
Related: Top RV Custom Products Every Owner Needs
Living in an RV requires organization. Keeping your things organized can create a relaxing and comfortable feeling. It can alleviate your stress while you are traveling. Besides, it can also help you work efficiently since you know where your things are. There are many storage ideas that you can follow, and just like the tips above, these hacks can help you save more space. If you have never done a van renovation or RV makeover before, you could give it a try and apply the RV ideas above.
If you ever consider customizing your windows in aid of organizing your RV, Peninsula Glass can help you with your options. Choose from our wide selection of RV windows that could be perfect for your needs.