Your RV needed that tender loving care. Proper maintenance, cleaning, and repairs are key to keeping it in good shape.
This also calls to knowing what best custom products for your RV and where to find them. To some, there's a challenge that the more personalized your RV is, the harder it is to look for the custom products it will be needing.
There will be materials that are more costly than the other, so make sure to invest in the necessities. Here are a few of those:
1. Tow bars
Your RV has a limited capacity and one thing that you need is to add on a tow vehicle. Upgrading your RV with quality tow bars set the bar high for better mobility.
Also, take into consideration the capacity of your RV to pull the vehicle. Some RVs have 10,000 lbs towing capacity, but only 5,000 lbs installed in them. This will help you maximize the function of your RV.
2. Electricity sources
While camping grounds can provide your electrical outlets to power your RV, there's nothing better than having it with you anywhere.
Solar panels can save you a lot of hassles– from paying for electrical charges in campgrounds to maximizing your gas consumption. Installing it in your RV is always a better way to keep electricity running wherever you go.
If you're still looking to buy an RV, ask your manufacturers if they have pre-wired solar panels for it. This will help you install these panels better.
3. Windows and mirror fixtures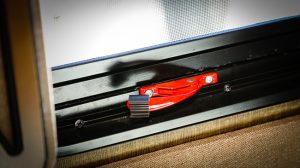 Though windows are standard parts in an RV, some of them can be a little more challenging when your RV is heavily customized or redesigned.
You need to upgrade your RV windows if it's not complimenting your RV's personalized design or the way you open and close it is complicated and inconvenient for you. On top of that, never miss out on ensuring that you have a functional emergency exit window.
Opting to upgrade your windows and mirror fixtures and customize them specifically for your RV is the best way to go. You can even install other window accessories that can be of better use. You just have to find the best people who can do this important task for your RV.
4. Batteries
If you're using a second-hand or old RV, having the batteries upgraded shouldn't be a question. Lead-acid batteries are the standard ones, but we're hearing that Lithium-Ion batteries run better.
Lithium-Ion has a longer battery life in comparison to lead-acid ones. They are also more efficient in the use of energy. This might be a costly option, but definitely worth it as you'll be reaping its benefits in the long run.
A custom RV calls for custom products, but you should know where to put your money in. There is a lot to consider in every upgrade, but functionality, efficiency, and convenience must not be ignored.
For your custom RV windows, only choose the experts. We at Motion Windows has been doing this for years and still continues to serve our customers. Hit us up to get a free quote.