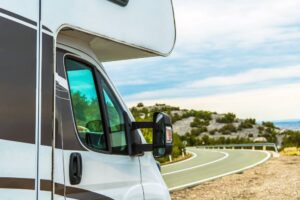 Are you one of those people who spend their life in an RV? Or love to travel, explore places, and consider your trailer as a recreational van? Whether you are hitting the road solo, as a couple, or as a family, traveling in an RV prepared and safe should be your top priority. And here are some tips to ensure your preparedness and safety on the road.
Road Preparation
Be familiar with your vehicle. Having little or no knowledge about your RV is dangerous. Not every road is RV-friendly. Knowing the specifics of your RV will determine what routes you can and cannot take. Understanding and skill in RV maintenance, such as changing oil, flat tires, is essential to your trip.

Plan and research campground or campsites, the towns and communities that you're going into. This will help you build a budget for the duration of your travel.

Read reviews from RV-ers or travelers who have stayed in the area, get a good sense of the place, and have ideas about past issues or theft histories. Scout the site and feel the area. Listen to your instincts.

Be insured. Anything can happen while you are on a trip. Your insurance serves as your protection against unforeseen expenses when you bump into emergencies. In addition, it safeguards you against incurring 'unnecessary' medical costs.

Be prepared for challenges. On the road for 24/7, 365 days of the year, of course, it's not all rainbows and sunshine. But, preparations will help you overcome bad weather conditions, vehicle malfunction, RV repair, break-ins, etc.
Safety Equipment Must-Haves
First-aid kit: Having a first-aid kit will come in handy for minor injuries if you get yourself wounded. Keep a first-aid kit wherever you go for unexpected emergencies.

Fire extinguisher: Keep the extinguisher in an easy-to-spot area where you can access it in case of fire or gas leaks.

Emergency contact numbers and information cards: Your information stating your blood type, emergency contacts, and other details are helpful for the rescuers. They can be used as an essential piece of document to bring along at all times.

Pepper spray and bear spray: You never know when you'll have an unexpected visitor. Take the spray wherever you go to stop wild animals or strangers from attacking you while camping.

Reflective vest: Ensure other road users can see you when you do something outside your vehicle, especially at night.

Warning triangles: Prevent additional accidents and road rage by giving other motorists and drivers head up about your broken vehicle.

Spare wheels and portable compressor: Inflating and deflating tires are among the most common problems when traveling.

Repair kit: It's good to have a basic repair tool kit for any minor repairs.

Cash: Be sure to store a little bit of money in your pockets or RV, just if you were put in a position where cards are not accepted.

Extra fuel: Sometimes, we can't calculate how much gas we're going to need in a day, best to be prepared and have a supply of extra gas to avoid being stranded in the middle of nowhere.

Batteries and portable charger: "low battery" or "shutting down due to low battery" is the last thing you need when you're in an emergency. Keep a stock of batteries, power banks, and other kinds of portable chargers for backup power.

Radio: Radios are vital to keep you in the loop of what's happening around you. Update on weather and other natural phenomena will help you prepare for a worse situation.

Emergency hammer and seatbelt cutter: If you're caught in an RV in an emergency, use the seatbelt cutter and break the RV emergency escape window with the emergency hammer.

RV exit window: Most RV's only have one door; that is why you need reliable exit windows for escape in case of fire, intruders, or other dangers. An exit window is one of the first things you should check when buying a trailer. It's hard to get stuck because there's no way out.
We want you to have safe and enjoyable travels, so if you need a decent escape window or want to update your current windows, Motion Windows is the way to go. Come to our site for a dependable and affordable RV exit window. Our skilled engineering teams will deliver the innovative and practical solutions that your RV deserves.
Peninsula Glass manufactures windows for RVs, boats, campers, boats, and navigational purposes. Please speak with one of our experts about how to increase the safety of your RV.