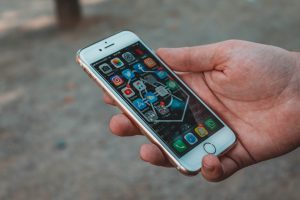 Mobile apps have been useful to us in so many ways. Whether it's for killing time, getting a payment done, or knowing what exercise to do, these apps make life a tad easier.
When it comes to RV living, certain apps are already providing help for campers. If you're new in the club and still testing the waters for that camper lifestyle, know that these best RV apps can save your life!
For navigation, these RV apps are the best:
Google Maps
This surely tops the list of apps out there for RVers. Since you'll be on the road, you'll need real-time status of where you're going and where you're currently at.
This app can also be integrated to Google Trips so you don't have to plot your itinerary. The road less traveled is a road no one knows but Google.
Waze
Another navigating app, Waze tells you where the roadblocks are, may it be a heavy traffic, construction, detours, and police so you'd know how to avoid them. Waze also re-routes automatically whenever its navigation senses road obstructions.
CoPilot GPS
What to do if you don't have signal? CoPilot GPS is every RVer's friend when they need to navigate offline. It offers offline maps, and directs you clearly into the proper destination, no internet connection needed!
Planning itineraries and where to eat will never be a problem with these apps:
Roadtrippers
This app is a holy grail when it comes to planning your itinerary, even if it's an impromptu trip! It does that by accessing your location, and gives you a list of nearby attractions that may interest you. Whether they are hotels, restaurants, shopping or history, planning your itinerary won't be such a drag.
Yelp
When looking for something to eat, you shouldn't always rely on your instincts. Yelp lets you see customer reviews on different restaurants so you'd know where's the best place to dine.
Foursquare
This functions a lot like Yelp, but isn't only focused on restaurants. In Foursquare you can check out the best hangout places, hot spots and must-try food in your current location, all backed up with customer reviews of course!
The need to find campgrounds and parking is necessary if you're travelling or living with kids. These smartphone apps can get you ahead:
Oh Ranger! Park Finder
Your RV life will take you to a lot of places. But there will also be instances when you need to park and let the kids run around outside and socialize with other campers.
Oh Ranger! helps you find recreational spots and nature campgrounds that's nearest your current location.
RV Parks & Campgrounds
If you're the meticulous type, then this app is for you. This provides you with a list of thousands of parks and campgrounds, and gives you access to real customer reviews. You don't have to try every park you see out there just to know if they're good or not.
Bad weather won't be a good sign for travel. Try out these apps:
Accuweather
For accurate weather forecast, Accuweather tops all the other apps and can set your expectations during travels.
Dark Sky
If you want a hyper local and real time weather forecast in your current area, Dark Sky will provide you with that. Its interface is easy to understand for even the non-techie travelers.
When you're always on the road, make sure your RV is in perfect condition. These apps can help you on that:
Sanidumps RV Dump Station Locator
A full waste tank should not burden you much longer. This app can help you find the dump station nearest you so you don't go around carrying all that waste in your truck.
You may not realize you'll need this in the future, but it's a highly recommended app for any RVer. It's a handy app that deserves a few MBs from your phone's memory.
GasBuddy
Gas is your lifeline when living the RV life, that's why this app helps you save your budget for your gas needs. It helps you find the cheapest places to get gas by using real-time user-generated data on recent gas pricing.
The van life can be challenging, but with these apps you can rely on, you'll be enjoying your RV life most of the time. Look them up in Apple App Store or Google Play.
When it comes to RV window repairs however, no app may help you as much. Allow us at Peninsula Glass do that work for you. Call or email us about your window requirements!