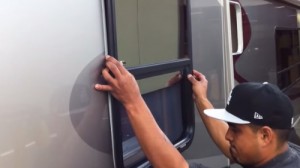 RVs are at the mercy of the elements, due to their intended use. And aside from all the more obvious components that get battered like the tires, the windows are among those that receive the most beating. And when you see damage on those windows, it's natural for you to want to do RV glass replacement on your own.
But should you? Before you get your toolbox and start working, here are some of the most important things you should know.
How Much Does An
RV Glass Replacement
Usually Cost?
As with many parts of an RV, windshield and/or window glass cost will vary depending on the size of your vehicle. Larger RVs tend to have larger windshields and windows, and some may even have specialized designs. This leads to the reason why cost would vary.
But if you're looking for actual numbers to start with, here they are. The typical RV window replacement cost on a standard-size vehicle often ranges from around $200 to $800. As for windows, the price depends on what exactly you're looking for. Prices could be as little as $100-$250 for a small-scale job. But you can expect as much as four figures or more for a complicated, fully-custom job.
Do You Actually Need To Replace The Glass?
RV glass is always prone to minor damage like scratching or small nicks on the surface. If you find some damage, however, should you replace it immediately? The answer depends a lot on how much risk the damage presents to the overall strength of the glass. Sometimes, even tiny cracks and chips can be critical to the overall structural integrity of the material.
If you need help deciding whether to replace or just repair your damaged RV window, here are some things you should consider.
What's the extent of the damage?

This is among the first questions you should ask yourself. A lot of experts recommend full-blown replacement if the size of the damage is greater than the size of a quarter, more so when large cracks and chips are directly obscuring the driver's line of sight. If the damage is smaller, though, all you need is a repair.
What's your insurance situation?

Not all car insurance policies are the same. For example, some policies may cover shattered vehicle windshields and windows, while some may not. But here's one thing you should know:

it's a common practice for warranty companies to exclude glass breakage from policy plans. So if you're looking to repair or replace broken glass, you might as well know if your insurance covers it so you can save a lot of money.
Related: Quick Guide to Recreational Vehicle Window Replacement
The Hard Truth About Replacing RV Glass
Replacing broken RV glass requires expert-level training and specialized tools. Going DIY means you risk not only further damaging your motorhome, but also your safety and that of others by driving with a window or windshield that's not installed correctly.
Much of these problems stem from the glass' size. Windshields, for instance, can be very, very heavy and a nightmare to maneuver around. It's because of this size that minor cracks or chips are more likely to spread, which can further damage the glass. The same thing goes for windows. Only a trained, experienced professional can install and properly seal automobile glass, and also repair minor chips and cracks.
We have a team of great people who are more than willing to help you with your RV glass replacement needs! Talk to us at Peninsula Glass and see what we can do for you!