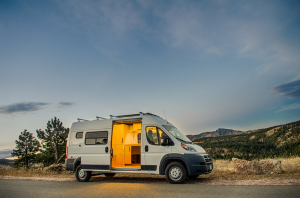 The best conversion van is always judged by its interiors. Every van owner can swear by the amount of planning they have to do to make use of their van's space to add the best conversion van parts. Having your own conversion van provides exclusivity and a luxury that fits your personality as well.
Have you bought a conversion van but still not sure which part should you focus on? There's always the idea of getting everything in there, but you should never skip the important parts. You have to consider knowing what conversion van parts are mostly needed when you're personalizing your own. Here's your ultimate guide to help you with that.
Seating arrangements and style
For bigger car spaces, you have the luxury to do what you want with the seats. But take note that every arrangement can affect the way spacing and functionality works in your interiors.
Seats for conversion vans come in an array of style, luxury and comfort. You can pick from large and cushioned seats, lavishly styled seats, swivel chairs, and even foldable beds for frequent travelers and children. When choosing these seats, it's important to know how space can work once you arrange them inside as well.
Carpets and flooring
Not all carpets are easily cleaned. Conversion vans promote a lifestyle wherein a lot can happen inside your luxury vehicle. When cleaning your carpet is always a hassle, you might as well change your conversion van's carpets.
Stains from anywhere will be inevitable as food and drinks might be a customary experience. That's why your conversion van must be upholstered into a stain-proof and easily cleaned carpet. If you'll be working on your sound system as well, soundproofing your walls is highly recommended.
Proper lighting
Lighting can add personality to your van's interiors. But remember to not remove the functionality on that as well.
For added sophistication, consider lighting panels along your conversion van's parts like windows, doors and ceilings. Lighting colors can tell a lot about your conversion van's personality. There's light colors like yellow, that shows elegance, white for functionality and different light colors for entertainment. Try and experiment your own style.
Entertainment system
Here's where the fun starts. Don't be afraid to install devices and state-of-the-art facilities that you and your guests can use during long drives and everyday traffic. Screens and monitors are a start, kick it off with a winning surround sound that's gonna take your passengers elsewhere.
Don't stop at that, because games and electronics always steal the show. Include gadgets and electronics that will entertain your kids and guests.
For safety though, you'll need to make sure that everything else is in place. All wirings must be neatly hidden and tucked, switches and buttons should be working properly. Sockets and inputs should be labeled for proper use.
Roofs and Windows
Lighting works best at night but driving during daylight should also be considered when designing your conversion van's interiors.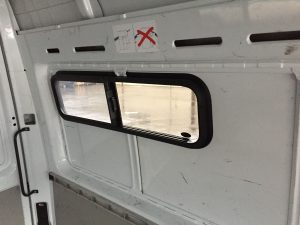 Sunroofs make for a perfect daylight traveling and star-gazing at night. Amp up your conversion van parts and get some sliding windows for your sunroof. Only let the professionals handle the installation of these parts. Some vans also come with power roofs and sports racks. Remember to justify which will serve the most use for you.
Your van windows should have tints that define your van's exclusivity. Find the best ones in the market that offers an array of van window parts and modern glass finishes. Installation is an art of its own, that's why it should be managed by experts as well.
When dealing with your conversion van parts, enough research will lead you to a lot of budget options and intelligent purchases. Luxury, exclusivity and style maybe the most important things to consider while designing, but functionality and quality must never fall short.
Conversion van parts can be found anywhere. For window parts and accessories, you can always trust Peninsula Glass. Our RV windows work best to any type of design. Talk to our team today!