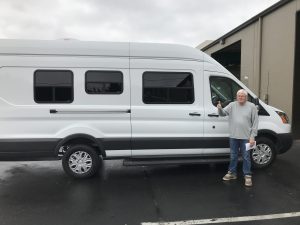 If you're reading this article, chances are you own a Ford Transit van. Well, do you want to convert it into a mini mobile home? Then you are in luck! The Ford Transit is one of the most popular DIY conversion projects out there because it's very doable. You don't need advanced engineering skills to perform a Ford Transit van conversion. That's the single best thing about it! All you need is a little patience, a lot of heart, and the right tools. Not to mention some careful planning, too.
So if you're planning a conversion project soon, here's what you should know!
Related: 6 DIY Sprinter Van Conversion Ideas
Which Ford Transit Van Model Is The Best?
Since we're focusing on a Ford Transit van conversion project, let's take a look at the van itself.
The Ford Transit, like any other car, comes in several configurations. If you visit your local dealer, you'll encounter four models in total. You have the Cargo Van, Crew Van, Passenger Van XL, and the Passenger Van XLT. These are the four main models, each of which has varying setups. And these setups can make or break any Ford Transit conversion project, so you have to choose wisely!
Let's take a look at these four models in detail:
Cargo Van –

This model is intended for hauling cargo, so it only ships with two seats. All the remaining space is empty space. This would work well if you want to start a project from scratch, which will allow you to go fully custom.

Passenger Van XLT –

This model has the largest seating capacity, with enough seating for 15 people. For most camper enthusiasts, this is the best starting point for a conversion. The reason is simple: it's all about the bigger space. If there is more space, you have more options to make the camper comfortable.

Passenger Van XL –

Carrying people instead of cargo is the focus of this specific model's design. This is the base model for people-moving, meaning it's a bit smaller than the XLT, but offers a little more space than the Cargo Van. While the regular model only seats 8 people, you can find extended ones that can seat as much as 10 or 15.

Crew Van –

The last model is the crew van, which mixes cargo and people hauling. It has enough seating for 5 people, with cargo space in the back. If you want something that gives a lot of options for a camper conversion project, this is one of the best.
For those who want a good starting point, the single best choice is the Passenger Van XLT. You get a massive amount of space, which allows for room to design your custom shelves, storage, and the like. Your design can incorporate a lot more knick-knacks without having to worry that you'll run out of space.
If you want something affordable from the get-go, then choose either the Cargo Van or the Crew Van models. The starting price is more affordable, which means you can set aside more of your budget to the conversion. With the money you save, you can choose better, sturdier materials and tools. That will work well if you want something custom, but can also last long!
Related: 5 Must-Have Conversion Van Accessories
DIY Or For Conversion Kits?
There are camper conversion kits for sale out there. They promise easier installation and convenience than going DIY. There are even several companies that offer professional camper conversion services. All you have to do is commission a project, and let them do the work while you wait. But should you go for a conversion kit or do things on your own?
The short answer is simple: it depends. It depends a lot on how you see your project panning out. Here are a few bullet points that illustrate the pros and cons of going DIY versus going for a conversion kit.
Go DIY, If:
You want something fully custom to your needs and wants. Remember that you might have equipment that may not fit into a pre-made shelf or nook, which comes with a conversion kit.

You want to save a little bit of money. Conversion kits can run for a few thousand dollars upfront. And that price sometimes depends on how big your camper van is. Plus, you get to choose the materials you need which can greatly help reduce the cost of the entire project.
Go For A Conversion Kit/Professional Conversion If:
If you don't want to be bothered by the hassle of building everything yourself. Convenience is the one thing you pay for if you go for this option. You can spend the time you save on your family instead.

If you want something that's professionally made that will last long.
Related: Ford Transit Van Life: A Look at Living on the Road
Going DIY? We Can Help With Your
Transit Van Conversion
!
If you intend to DIY your van conversion, we can help you! We have great options for custom Ford Transit windows should you need something sturdy. After all, you'll be living on the road, where you're at the mercy of the elements. A good set of windows can help protect your family and your camper investment!
Talk to us at Peninsula Glass and see what we have in store for you!