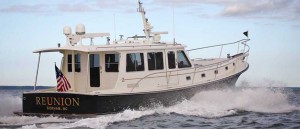 Windows are some of the most delicate parts of a boat. Aside from the fact that it's made from glass and other breakable materials, it's also exposed to a lot of wind and air pressure when your craft is in motion. Knowing what parts would greatly affect your windows' state can help a lot in times of need.
There's so much more to know about your boat windows. Whether you're looking to replace, repair or just check it out for damages, knowing these important boat window parts will come in handy.
The Glass Parts
The most obvious part in every window is the glass. In marine and boat windows, glass materials can vary depending on the type of window it will be used.
Marine glass materials are made to survive the pressures of the wind, water and other marine and water sports activities. Most boat window glass in the market are made up from these materials:
Vinyl and Polyester Composite
These materials are known to be more flexible than the others. It can bend or curve to the contours of the boat seamlessly. This composite combination makes its fabrics stay tightly against the window's frame. These waterproof fabrics also help avoid the development of mildew.
Clear Pressed Polished Coated Vinyl
One of the most popular choices for marine use is the clear pressed polished coated vinyl. It's the easiest to maintain because of its scratch-proof coatings. This material can be easily rolled back which makes it best for the roof and tops of boats.
Polycarbonate
Window glass made from polycarbonate materials are considered to be unbreakable, or that it seems like it is. This material is known to provide the best visibility for the user as it's clearer than other plastics.
However, it also has a downside: since it's not soft like vinyl, you cannot roll it up for storage. Polycarbonate tends to get a little more pricey too.
Acrylic
Also another almost unbreakable material, acrylic tops the choice of users as it also provides better visibility. It's most advisable for rugged marine use. The acrylic has the ability to withstand a lot of air and water pressure.
The downside, however, like the polycarbonate, you cannot roll it up for storage. Acrylics also tend to get scratched easily.
Installation parts
Installing your windows is just as important as picking out the best materials. No matter how great the materials are, if they are not properly installed to your boat, they will fail to function at their best.
Installation parts are key to making boat window assembly work its best. When doing the installation yourself, don't miss out on quality adhesives, trim ring screws and lock rubbers.
Window parts
Now these parts may vary depending on the type of window that is being replaced or repaired. When doing the installation yourself, remember to purchase these important boat window parts for different types of boat windows:
Drain Hole Covers
These drain hole covers may vary depending on your window's shape and form. They are necessary to keep moisture and condensation from escaping from your window's frames.
Glazing Bead
Glazing you double-pane windows won't be attainable if not for these. Make sure that it is properly trimmed and sealed off with quality glass glazing beads.
Latch Kit Assembly
Marine windows should be installed to withstand motion and pressure from unexpected sea and wind movements. Locking your windows in place is important for your safety and security.
Investing on quality grade window parts especially on your window's latch kit assembly must be properly considered when replacing or repairing your boat windows.
Marine Grade Butyl
Leaks are simply a big no on any boat window. Using marine grade butyl tape is a better option than using liquid sealants. It remains sticky and pliant but doesn't harden. It's also a cheaper option with a longer shelf life.
Now that you know the importance of these parts, it's time to find where you should be getting them. We've made all these available for your one-stop shop needs here at Peninsula Glass.
Ask us for a quote or simply contact us if you need help on anything.