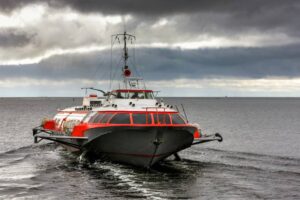 A well-organized boat is relatively safe, looks way better, and makes it much easier to find exactly what you need. You can take comfort in knowing that your valuables are secure, protected, and out of the way. You need a boat organizer for maximum boat storage, where you may safely store anything from beverages to periodicals, cooking ingredients, toothbrushes, and everything in between.
Let us have a look at some of the essential boat organizers you need for sailing.
Trash Bag Organizer
You must keep trash bags in the boat to keep garbage out of the water. This is perfect for collecting waste or storing goods, and it will make your journey more convenient, economical, and cleaner, plus you are helping the environment. Keep enough trash bags on board but make sure to organize them. Get a trash bag organizer!
Glove Box Boat Organizer
It has never been easier to keep your belongings in order. You can store tools, gloves, and even personal goods in the spacious compartment altogether. But when you are in a hurry, it would be hard to pick the thing you need. Additionally, it could also damage the gloves. So, with a glove box boat organizer, you can easily organize them. You can even arrange them according to sizes, types, or even color.
Rope Boat Organizer/ Rope Storage Utility Bag
Ropes and lines on your boat can easily tangle. Invest in a rope storage utility bag that fits over the rail to avoid the mess. Your boat will appear cleaner, and the bag will make it easier to get on and off. Look for something made of exceptionally durable fabric that is weather-resistant, stain-resistant, and rot-proof.
Shoe Boat Organizer
Where do you store the shoes to keep them from blowing out? You probably don't want them lying around the floor of your boat. The solution is a shoe boat organizer. You can hang them in any part of the boat to keep all of your shoes in one convenient, out-of-the-way position.
Fishing Rod Storage Bag Organizer
Invest in a fishing rod holder for improved organization. If you need to store more than just fishing rods, a tube unit is a suitable option. It keeps them vertically and may have other storage slots for items like fishing knives and pliers. So, this is a must for small fishing boats instead of letting them on the floor as you sail.
Communication Caddy Organizer
Don't let your communication tools fall into the water. Instead, put it in a safe place while not in use. Most handheld VHF radios and FRS (Family Radio Service) communicators can be stored in the communication caddy, compact enough to be carried near the helm of even the tiniest boat. This communication caddy organizer is usually compact and can easily be attached or mounted.
Tackle Organizer
A tackle organizer is a storage container for fishing equipment. It can be made out of any box. However, a purpose-built fishing tackle box provides a range of compartments for storing various goods. It can range from a single tray with a few sections to a self-contained rack system with numerous drawers and other storage places.
T-Top Storage Bags
As sailors, the State requires you to have life jackets on board, but they are bulky, making them difficult to store. So, to keep them organized, you can place them in an appropriate bag that may be fastened underneath the T-top. This type of bag has compartments and mesh pockets so you can separate gears easily and organize them.
Boat Caddy
A boat organizer caddy can hold your sunglasses, drinks, and other personal stuff while you are enjoying a good view or while under the lovely sun. You can mount it horizontally or vertically. But you can also place it on a flat surface. So it is ideal for tiny boats that don't have a lot of storage space in the cockpit.
The Galley and Wall Racks
Racks are integrated into the walls of boat galleys. These racks are the ideal storage solution for your stuff.
Having a wall rack with glass windows as a boat organizer is better than a standard hanging wall rack, whether you have a vast collection of spices or an expanded library on your boat or need some extra room to show off treasured photos and souvenirs. Adding marine glass windows to a standard wall rack organizer is a terrific method to safeguard the objects inside.
Glass windows allow you to see what is on your shelves, making it easier to find what you are looking for. And there is no doubt that wall racks with glass windows can add a touch of class and refinement to your boats. So, install it in your boat.
Call Peninsula Glass for high-quality glass. They offer different marine glass windows, window restorations, aluminum boat windows, and sliding boat windows.