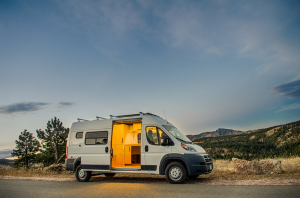 There's always a debate whether having a custom RV is a good investment or not. A lot can argue that living in a traditional house is cheaper. But some have been better spenders once they decided to live in an RV.
Whether you prefer a traditional house or a moving vehicle as a home, you have to be aware that this comes with different lifestyle choices. If you're someone who's considering to buy one but want to know if it's worthy to invest in, here's something to help you out. Purchasing a custom RV is a good investment if:
Your job requires you to travel
If you're still paying rent for a one-bedroom condo that you barely use because you travel too much, maybe it's time to rethink your living expenses.
There's comfort in living in a spacious house with all your stuff in there, but with a custom RV, you get to experience the same thing anywhere, sans paying the rent.
This may go well with singles or couples, but the bigger your household is, the harder it is to decide living this way. If you're thinking to get the whole family to live in an RV, make sure everyone, even the kids, would have a say in this because adjustments are clearly not for everyone.
You want to downsize
Minimalist living makes you spend money on things you just need. But sometimes, bigger spaces feel empty for the minimalist lifestyle. Some people are anxious to look at an almost empty cabinet, and tend to buy more things to fill that in.
The solution? Live in smaller spaces. Living inside a custom RV makes you want to rethink your spending. Whenever you feel like buying things you think you need, you'll always consider if these things can actually fit inside a small space like an RV.
This will also mean you get to save more to spend your money on things that really matter.
You like traveling places
Have you always been so anxious during travels that you get to pack your bags and bring everything with you? Travelling on an RV eliminates this feeling because it'll feel like you're bringing your home with you– which is kind of the whole idea. Customizing your RV simply is also one of the best feelings. You get to explore space-saving options to put everything in there make it feel a lot like home.
Avid campers and travelers love the idea of having a home they can bring just about anywhere. Having a movable house ensures safety and security you'll feel inside your own home. If you've always been dreaming to live outside the boundaries of a city, you can simply purchase your own RV, travel, and live off this lifelong dream.
You're planning a business
If you're not buying an RV for a house, you can buy it for a roving business instead. Commercial spaces are too expensive nowadays, especially in more competitive areas. With your own custom RV, you get to keep all your profit, as you test the waters for different areas where your business can be a hit.
The simplest things you can do is a food truck– you can customize your RV with a fully -functional kitchen inside, whatever your food business might be. Food trucks have such an increasing popularity now that a number of festivals have been making a huge impact on the public.
But there are other kinds of businesses that operate inside an RV. Ever heard of a roving barber shop? Or a mobile bar? Find inspiration from your own imagination, and get your RV customized for that.
Invest in a Custom RV
Whether or not you think a custom RV is a good investment, it all boils down to how you'll make use of it. Different living conditions require different lifestyles so make sure that before buying one, you're fully aware of it.
Customizing your RV must also be carefully planned according to how you're going to use it. Hire only the professionals for the job so you'll get your money's worth.
For RV and camper van windows, you'll find the experts and the best products at Peninsula Glass. Let us help you find what you need– send us a message, or simply request a quote.