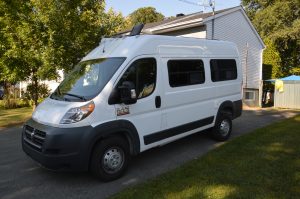 If you have a Mercedes Sprinter van, adding windows can help increase not just light and airflow into the vehicle, but also visibility when driving. Installation of Sprinter van windows is easy and can be finished in a day.
Here's an easy to follow instruction to help you.
Sprinter Van Window Installation
1. To make cutting the hole easier, draw a template by laying the window frame on cardboard or some other template material. Trace around the outer edge of the window frame. Leave a gap of about an eighth of an inch between the window opening and the window frame.
2. Tape the template on the inside of the van where you want the window. Using the template and a marker, draw the outline on the inside of the van. Drill small holes along the inside on the corners of the template so that you can mimic the outline on the outside of the Sprinter.
3. Use the drill holes and the template to mark out the outline on the outside of the van. You can also connect the drill holes with painter's tape to draw the outline.
4. Use a jigsaw with a fine-tooth blade for cutting out the opening for the new window. You can prime the edges of the opening with Rustoleum to prevent rust in the future.
5. When installing an RV sliding window, it is easier if it is in the open position. Ask a friend to help you insert the new window into the opening you cut out. Your friend can hold the window in place while you attach the screws.
It may seem daunting, but Sprinter van window installation is easy with the right tools, some experience, and a lot of patience. Good luck!
Related: Best Aftermarket Sprinter Windows: How Do You Choose