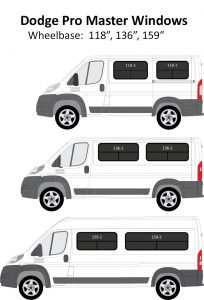 Adding windows to your Dodge Ram ProMaster van makes the space inside seem bigger and airier. You can add windows on each side of the vehicle as well as in the galley area behind the driver's seat.
Though the sides of the ProMaster have a curve, you can use flat windows for your ProMaster van conversion.
Installing new windows into the Dodge Ram ProMaster is easy. Here's how:
How to Install Dodge Ram ProMaster Van Conversion Window
Draw a template to help you cut the window opening in the side of the van.

Align the template on the inside of the van and use a marker to draw the cutout.

Drill small holes through the sides of the van at the corners of the template. This will help you position the template when you draw the outline on the outside of the van.

Use the holes you made to position the template outside of the van. Make sure the template is parallel to the horizontal seam in the side of the van just above the window. The side of the van may be curved, so don't use a level to do this.

Cut out the hole for the van window.

Build the frame for the clamp ring.

Attach the clamp ring support frame to the window opening.

Seal the window frame with butyl tape.

Position the van window in the opening.

Clamp the window in position with the window clamp ring.

Clean up the butyl tape.
And that's it! If you have any questions about Dodge Ram ProMaster van conversion window installation, drop us a line.