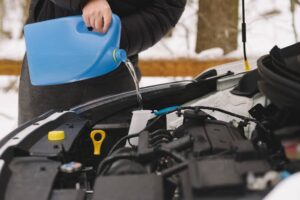 Your vehicles' windshield can get dirty quickly because of dust and dirt because of pollution. That is why you need to learn how to make homemade windshield washer fluid to keep them clean. This is practically important if you want to maintain your vehicle or vessel's windshield clear and clean.
Visibility is essential, especially while you are driving. And it is undebatable that a clean windshield contributes to safe driving. So apparently, keeping your windshield clean is a crucial task and should be part of any vehicle maintenance.
The Importance of Keeping the Windshield Clean
The easiest and the most convenient way to make your windshield clean is to visit a car wash and have it cleaned while you wait. They have different cleaning agents that will indeed remove the stubborn dirt and glass stain to restore the cleanliness of the glass shield.
However, if you travel frequently, regular visits to the carwash shop may not be convenient and require additional expense. That is why most vehicle owners opt to clean their cars independently with the ordinary cleaning solvent or a homemade cleaner. So, if you are one of those vehicle owners who find the idea of going to shop costly, you must learn how to make windshield washer fluid.
DIY Windshield Washer Fluid
You don't realize there are things or cleaning solutions in your house or kitchen that can be suitable washer fluid. You need to recognize them and make them a functional DIY windshield washer fluid. Here are a few of them:
Glass Cleaner
You use a glass cleaner to clean your glass window, and a mirror can also be a perfect cleaner for your windshield.
Application:
Get a small spray bottle and pour an adequate amount of glass cleaner.

Spray it to the windshield. Make sure you wet all spots.

Let it sit for 5 minutes.

Then get a paper or newspaper and wipe the cleaner from the windshield, applying up and down motion from top to bottom.

Using a microfiber cloth, wipe out excess moisture by applying the top-to-bottom motion.
The glass cleaner is available in any hardware or glass shop.
When wiping the windshield with a newspaper, you have to press extra pressure to the spot with a stain or stubborn dirt. After finishing the steps, examine the glass if it is thoroughly clean, then redo the whole process if necessary or clean the area again with the unremoved stain or dirt.
White Vinegar
Vinegar is an effective cleaning agent, so that it can be a useful homemade wiper fluid. In addition, their high acidity can loosen hard dirt. That is why most homeowners take advantage of white vinegar to clean their kitchens. With these cleaning properties present in vinegar, they can also be an effective cleaning agent.
What you need:
2 cups of clean or distilled water

½ cup of vinegar
Steps:
In a spray bottle, mix the water and vinegar.

Shake it to mix well.
Application:
When cleaning the windshield, you can spray it generously to the glass. Let it sit for a few minutes and observe. Once you notice that the stubborn dirt and dust are loosened, you can wipe it off using a soft cloth or a squeegee.
After you are done wiping the windshield, you will notice that the glass will restore its usual clearness.
Dish Soap
Make your windshield washer fluid from the dish soap. Dish soap can effectively remove grease and oil from plates and pans. So, you can also use this cleaning agent to remove dirt and dust from your windshield. At the same time, restore its clearness.
What you need:
2 cups of distilled water

½ cup of dish soap
Steps:
Mix the water and dish soap

Stir the mixture well

Transfer it to the spray bottle.
Application:
Spray the solution to the windshield that you wish to clean. Let it stay for a few minutes, wipe it with a soft cloth, or use a squeegee to remove the excess liquid.
Dish soap contains active ingredients that break down and suspend unwanted substances. This made them an effective eliminator of stubborn dust and dirt in the windshield. Also, this can be one of the inexpensive cleaning agents.
Lemon Juice
Lemon is used most of the time as a household cleaning agent. This is because the fruit contains antiseptic properties that effectively eliminate dirt and dust.
What you need:
1 cup of warm water

Two tablespoons of Lemon juice

One tablespoon of white vinegar
Procedure:
In a small glass or container, mix all the ingredients.

Stir it well and then transfer it to a spray bottle.
Application:
In applying the solution to the windshield, you can spray it generously. Let it sit for three to five minutes. After which, wipe off the mixture using a clean, soft cloth or a squeegee. You will then notice that the glass will become shiny and clear.
When should you need a windshield replacement?
Improper cleaning of the windshield will result in scratching the glass. This is because hard objects like sponges or rough cloths can scratch or damage the windshield surface. So make sure you use suitable materials and apply the correct homemade windshield washer fluid.
If the damage is severe and can no longer be treated, it is time that you contact Peninsula Glass. The company has offered high-quality mobile windows for vehicles and vessels and is also affordable.
Do you feel like you need a new windshield? Contact motion window today and get a free quotation!