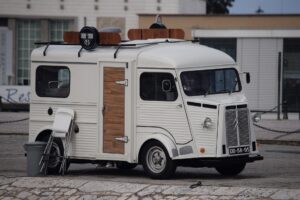 If you've ever dreamed of owning your food truck, now is the time to make your dreams a reality. With this guide, you'll be able to build your food truck from scratch with ease. We will check everything you need to know, from designing and building it to choosing the perfect food truck window for your business.
However, before building a food truck, you must understand how the business works. Research your local regulations, plan a menu and pricing strategy, and consider any permits or licenses you may need.
Once you have a firm business plan, it's time to start building your truck
Find the Right Vehicle
Start by finding the right vehicle for your needs – some options include converted vans or buses, customized trailers, or retrofitted delivery trucks. Consider the size and layout of your vehicle, as well as any unique features you may want to incorporate, such as energy-efficient appliances or a generator.
Finding the right vehicle for your food truck can be a daunting task.
Here are some tips to make the search a bit easier:
1. Determine your budget and stick to it. It will narrow down your options and prevent you from overspending.

2. Consider your menu and what type of equipment you will need. Will you be serving hot food or pre-made items? Do you need a grill, deep fryer, or refrigeration unit?

3. Take into account the size and maneuverability of the vehicle. Will it fit in tight spaces, or will you primarily operate in large, open areas?

4. Think about the aesthetics of the truck. Will it fit with your brand and attract customers?

5. Research local regulations and make sure the vehicle meets all requirements.
Customize Your Truck
Next, it's time to customize your truck to fit your needs and aesthetic vision. It may involve painting the exterior, installing kitchen equipment, and adding countertops, shelving, and storage.
When customizing your food truck, the sky's the limit. From paint jobs and graphics to equipment upgrades, countless ways to make your vehicle stand out from the crowd and better serve your customers.
1. Consider how you want your truck to look visually. Choose a paint job or graphics that reflect your brand and catch the eye of potential customers.
2. Think about what equipment upgrades will best serve your menu and make the cooking and serving process more efficient. For example, installing a larger grill or adding a fryer can expand your offerings and attract more customers.
3. Don't forget about storage solutions and organization. Adding shelving and bins can help keep your truck neat and organized, making the cooking process smoother and more efficient.
4. Make sure to consider safety when customizing your truck. Install fire extinguishers and ensure all equipment meets safety regulations.
By taking the time to customize your truck, you'll not only stand out from the competition but also improve your overall efficiency and customer experience.
Choose a Window Design
Your food truck window is where the magic happens – your customers will place their orders and pick up their food. Consider a sliding or hinged window design, as well as any additional features such as a sneeze guard or heat lamps.
Regarding the food truck, the windows should be a significant consideration during the design process. They serve as a way for customers to place their orders and showcase your business.
Things to remember:
1. Functionality
Consider how customers approach and interact with the window. Will they be able to place their orders and pick up their food comfortably?
2. Visibility
The window design should showcase your menu and entice potential customers to come to try your food. Consider adding visuals such as images or graphics to catch people's attention.
3. Durability
Food trucks are constantly moving, so be sure to choose materials and a design that can withstand frequent use and transportation.
Ultimately, the rewarding option for your food truck will depend on the layout and style of your vehicle. Some popular designs include sliding windows, fold-down windows, and hinged windows. You may also need to learn how to install a food truck window.
To ensure your food truck's windows remain in top condition, it's essential to prioritize window glass cleaning and maintenance. Opt for windows that are not only durable but also easy to clean and maintain.
Signage and Branding
Do not forget to add the finishing touches by adding signage and branding to your truck. With hard work and determination, you will be ready to hit the road and serve delicious food to hungry customers.
Signage and branding for a food truck are crucial aspects of standing out in a crowded marketplace. Take time to think about branding and signage that you can put on your food truck.
1. Consider your brand's identity and choose fonts and colors that match this. Your branding should also be consistent with your menu offerings and the overall atmosphere of the food truck.

2. Think about what kind of signage will work best for your food truck – do you want a vinyl wrap on the outside or perhaps some banners? Don't forget about internal signage, such as menus and boards.

3. Consider the location of your food truck – will potential customers be able to spot your branding and signage from a distance easily?

4. Make sure that any signage complies with local laws and regulations.

5. Choose materials that are durable enough to withstand the elements and daily use.
By carefully considering these factors, you can choose signage and branding to make your food truck stand out and attract customers.
Factors to Consider When Selecting Food Truck Windows
As a food truck owner, you have to make sure you have a high-quality food truck window. It affects the efficiency of your business operations and the customer experience.
Here are a few essential factors to consider:
1. Durability
Your window needs to be able to withstand frequent use and the elements. Look for a sturdy material, such as stainless steel that won't easily break or rust.
2. Size
Make sure your window is big enough to accommodate orders and exchanges without feeling cramped. It should also allow for easy cleaning and maintenance.
3. Insulation
This is crucial in maintaining the temperature of your food and drinks. Consider investing in a window with double-paned glass or insulated panels to keep items hot or cold.
4. Visibility
Your window should have clear, unobstructed views for customers placing orders and staff serving them. It helps improve efficiency and avoids misunderstandings.
5. Design
In addition to functionality, think about the aesthetic appeal of your window. Is it visually appealing to customers? Does it match the overall theme and branding of your food truck?
Choosing the right food truck window can significantly impact the success of your business, so carefully consider all these factors before making a decision.
If you are unsure which to select, you should contact Motion Windows. The company offers high-quality windows for food trucks that you can choose from. Visit their website at motionwindows.com for more information. Alternatively, you can visit RVwindows.com for more info about food truck windows. Both RV windows and Motion Windows are divisions of Peninsula Glass.
So, if you are looking for food truck windows, contact us today!