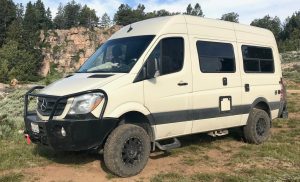 Living on the road in a camper, you're more susceptible to the forces of nature. Because unless you have great heating and cooling in your vehicle. Nights are often colder, and days are often hotter. After all, you only have the walls of your camper to separate you from the outdoors.
Keeping yourself safe and cozy is as simple as focusing on one thing: your camper's windows. More importantly, you have to find ways to seal it off. Keep the heat in when it's cold out, and vice versa. If you're searching for ideas about van window covers, this is the right place!
DIY Van Window Covers
: The Best You Can Make
Here's a good starter idea. All you need is a few meters of thick fabric, some insulating foam (those with foil), and basic sewing skills. And you'll also need a strong magnet and superglue.
Cut a few pieces of the insulating foam into large-enough panels to cover the windows. You can even contour your cut to the shape of your window pane for a perfect fit! Make sure that your measurements are accurate, because you don't want to leave any space. You must cover the entire area of the glass.

Cut the fabric and sew them to make rolls, like a pizza crust. You will then sew these rolls around the insulating foam panel, framing it. Then, sew at least two layers of thick fabric on the opposite side of the foil on the insulating foam. By the end, you should have the foil on one side, and a thick layer of fabric on the other.

Use some super glue to stick the magnets on the foil side of the cover. This is because you want them to stick to the metal frame of your windows with the foil facing outward. Add more magnets as you see fit for extra stability. But make sure to be careful with the super glue!
Important note 1: If your windows do not have metal contours, magnets obviously won't work. But don't fret! You can buy spring-loaded extendable curtain rods to keep them in place. These rods aren't too expensive to get, so it could be an easy fix!
Important note 2: You can also go for pre-quilted fabric if you can't find anything thick enough.
Repeat the process for all the windows on your camper, and voila! You have a handful of DIY van window covers that will keep you cozy, no matter what the weather is!
Related: Simple Guide To RV Window Treatments & Coverings
How Good Are DIY Covers?
Long story short, pretty good. Compared to typical sprinter window covers you can buy, DIY can be a bit cheaper. If you know where to look for cheap materials, of course. Here is a deeper look at how good DIY covers can be.
DIY covers can be light proof as well as weatherproof. This is a godsend to people out there who can't sleep when it's not dark. No light will come in no matter what time of day it is. And if you want to keep your van discreet while sleeping, no light will come out of the van too. You can sleep in absolute peace, without anything disturbing you.

They essentially double the insulation against the cold. The best thing you can do to insulate your windows is upgrade them to better ones. You can go to us at Peninsula Glass for that. Because if you put an extra layer on the already good glass, you can stay cozier than you expect being in a van.

When it's hot out, you don't want the sun to use your windows to turn the interior into an oven. DIY covers can help keep your camper cool by blocking a lot of UV rays.
Normal curtains and blinds won't work on campers. These DIY covers are something that will work on your camper. Be sure to follow the directions and research more on how to make them if you want to make them right! And remember to have a lot of patience, too. Sewing thick fabric requires a good amount of strength. But all that work will be worth it! Because in the end, you'll have something that will make your life on the road way more comfortable.
Related: 5 Effective RV Window Insulation Techniques
If it's your van windows that you want to upgrade, talk to us today at Peninsula Glass! We have a wide variety of choices for your camper, to help make it even more weatherproof.